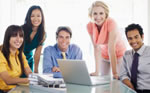 Commercial printing services are provided by trained professionals at Color Concepts. We will manage your project from start to finish, making your life easier! You can e-mail us your file, and we'll print, cut, fold and mail it for you! Color Concepts never cuts corners on custom services!
Our list of commercial printing services is what it is today because of customer requests! Folding and cutting, faxing and e-mailing, tickets, signs, banners, cards, copying, printing, and more! Front end services, selection and quality product are guaranteed every time!
You'll find our customer service department ready and waiting to serve you. Come to us with all of your commercial printing needs: faxes, full serve black and white or color copying, individual label printing, laser prints, color prints, lamination, and more - if you need it done right, we're here to help!
Color Concepts is Florida's most progressive commercial printing company. If you would like to order or reorder a product, please visit the Order page. For examples of some of the items we can create for you, use the links on the left, or visit our Portfolio.
We look forward to assisting you with your commercial printing needs!


Home > Printing > Services > Order > Portfolio > Glossary > Contact
Appointment Cards > Ballots > Brochures > Programs > Envelopes > Calendars > Business Cards
Certificates > Continuous Forms > Flyers > Gift Certificates > Thank You Cards > Labels > Letterheads
Menus > Newsletters > Note Pads > Presentation Folders > Prescription Pads > Raffle Tickets


2602 Tampa East Blvd. Tampa, FL 33619
Tel: 813-623-2921 Toll: 1-800-541-4231 Fax 813-626-9671
E-mail: info@colorconcepts.com