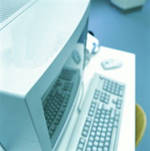 Note pads are a great gift for clients. Personalize your own note pads with Color Concepts! We offer blank, graph or straight lined pads, as well as personalized telephone message pads available in any size. Our wide selection of paper and ink options makes professional and affordable note pads an easy choice. We offer you flat or textured papers in lots of colors, colored ink or just black ink, and great prices to make your life easier! You'll love the convenience of your own note and phone message pads. And try giving them away to your customers to keep you on their minds!
Give us a call or order online!
Please use the links on the left menu to view our other commercial printing products.
Color Concepts is Florida's most progressive commercial printing company. If you would like to order or reorder a product, please visit the Order page. For examples of some of the items we can create for you, use the links on the left, or visit our Portfolio.
We look forward to assisting you with your commercial printing needs!


Home > Printing > Services > Order > Portfolio > Glossary > Contact
Appointment Cards > Ballots > Brochures > Programs > Envelopes > Calendars > Business Cards
Certificates > Continuous Forms > Flyers > Gift Certificates > Thank You Cards > Labels > Letterheads
Menus > Newsletters > Note Pads > Presentation Folders > Prescription Pads > Raffle Tickets


2602 Tampa East Blvd. Tampa, FL 33619
Tel: 813-623-2921 Toll: 1-800-541-4231 Fax 813-626-9671
E-mail: info@colorconcepts.com