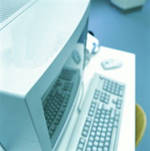 Continuous forms customized professionally by our designers will give your continuous checks, invoices and purchase orders a professional edge. All continuous forms have custom options available to suit your needs but are still made to fit standard envelopes so you don't have to worry about hassles in the mail room. Protect your business with our security features to prevent fraud. Our professional-looking invoices, statements, purchase orders and custom continuous forms are available in one to five parts. They come in various sizes and are easy to order and easy to use!
Give us a call or order online!
Please use the links on the left menu to view our other commercial printing products.
Color Concepts is Florida's most progressive commercial printing company. If you would like to order or reorder a product, please visit the Order page. For examples of some of the items we can create for you, use the links on the left, or visit our Portfolio.
We look forward to assisting you with your commercial printing needs!


Home > Printing > Services > Order > Portfolio > Glossary > Contact
Appointment Cards > Ballots > Brochures > Programs > Envelopes > Calendars > Business Cards
Certificates > Continuous Forms > Flyers > Gift Certificates > Thank You Cards > Labels > Letterheads
Menus > Newsletters > Note Pads > Presentation Folders > Prescription Pads > Raffle Tickets


2602 Tampa East Blvd. Tampa, FL 33619
Tel: 813-623-2921 Toll: 1-800-541-4231 Fax 813-626-9671
E-mail: info@colorconcepts.com